What is the Pyramid Model?
The Pyramid Model is a framework for supporting and promoting social emotional competence for infants, toddlers and preschoolers. This framework is comprised of evidence-based practices and was developed by two federally-funded research and training centers: The Center for the Social and Emotional Foundations for Early Learning (CSEFEL – pronounced "sef-ul") and The Technical Assistance Center on Social Emotional Interventions (TACSEI – pronounced "tac-see"). Although these centers are no longer funded, the information and products are still available and are FREE. The Pyramid Model is an effective way to create supportive, inclusive settings for young children with developmental delays, children who may be at risk for developmental delays and/or children with disabilities.
Foundation: At the base of the pyramid is the foundation where systems and policies are developed to ensure an effective workforce that is able to adopt and sustain evidence-based practices.
Tier 1 (Blue Tier): Universal supports for all children occur through nurturing and responsive relationships and high quality supportive environments. The behavioral needs of about 80% of children can be met here.
Tier 2 (Green Tier): Prevention through targeted social emotional strategies is used to prevent problem behaviors. The behavioral needs of about 15% of children can be addressed here.
Tier 3 (Red Tier): Individualized, intensive interventions comprise the top of the pyramid, which is required for about 5% of children. The implementation of universal and preventative supports improves the capacity of programs to individualize intervention.
Pyramid Model visual: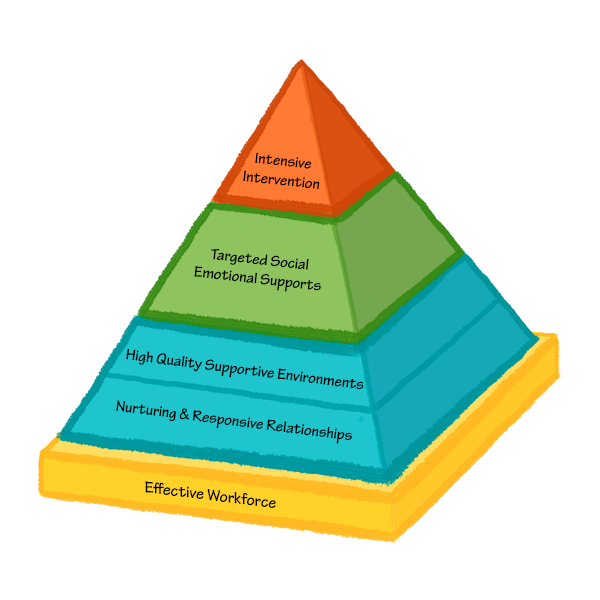 Why is social emotional competence important?
When children have the social skills to get along with others, they are able to effectively communicate their wants and needs, appropriately interact with adults and peers, and are ready to learn. Challenging behaviors often occur when children have social emotional delays and lack appropriate social skills. Teaching and promoting social emotional competence can prevent most challenging behaviors.
For an in-depth overview, please take a few minutes to watch a visual tour of the Pyramid Model.
Copyright 2014 © Pyramid Model Con
Why is the Pyramid Model being used instead of a different social emotional curriculum?
The Pyramid Model is not a social emotional curriculum. It is a framework for supporting children's social emotional competence. This framework consists of universal  supports for all children to promote wellness, targeted services to those who need more support, and intensive services to those who need them.
How can I learn more about the Pyramid Model?
You can attend one of the workshops offered by Nevada TACSEI.
You can also visit websites for the Pyramid Model faculty: National Center for Pyramid Model Innovations